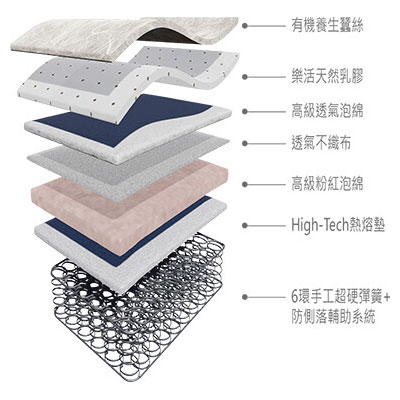 Feature of product
3-line silk latex 6-ring super-hard spring bed
The Shurou knitted fabric laid out Shurou's touch with a woven technique to express the delicate tone of hibiscus.
Organic health silk, the "constant temperature control" mechanism in nature, strong breathability and moisture absorption, cool in winter and cool in summer.
LOHAS natural latex is the most environmentally friendly natural furniture material nowadays. It is antibacterial, anti-mite, breathable, and constant temperature. It is sewn under the surface of the fabric with the patent of TQL latex table cloth car flower, and the effect is good.
6-ring super-hard spring, made of China Steel's top high-carbon manganese steel, shaped by high-temperature heat treatment, with the latest technology of low-temperature high-tension anti-trap needle
The cotton pad is anti-sagging treatment, and the spring durability is not deformed under normal use.
The anti-falling auxiliary system uses a unique string spring to connect the frame and the side spring in series, together with the EPE corner and auxiliary bow, to completely improve the hardness and support of the edge.
Hardness degree
Mattress height