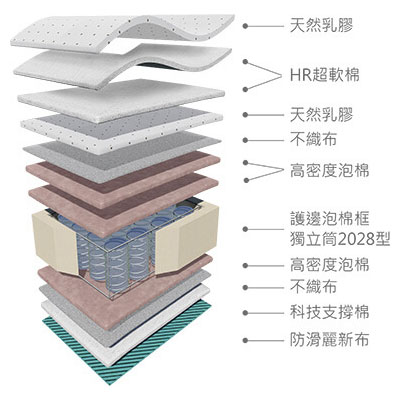 Feature of product
Carefully selected top-grade Cashmere wool fabric with a fine texture and softness to provide the best comfort.
The exclusive patent "TQL table cloth latex car flower technology" allows the skin to experience intimate natural latex elasticity, constant temperature, antibacterial and other excellent characteristics.
Add 5 cm of natural latex imported from Belgium, thick and super elastic, high stability and no deformation.
The inner material uses HR super soft foam, which is breathable and comfortable, and effectively improves the fit of the clothing.
Non-Flip design is easy to turn over, which simplifies mattress maintenance procedures and makes home life more comfortable.
Special custom-made 2028 independent cylinder springs are selected, and the three-stage arrangement is adopted to ensure stable service.
The 4 cm thick PU anti-drop foam frame is used on all sides to enhance the bed's toughness and durability.
Hardness degree
Mattress height